Restocking Note Fall '16 - Most of our Fall gear will be arriving beginning late July through Sept. We'll post notices on the front page as different brands restock.
Recent Restocks:



WELCOME to the World's BEST outlet for HARD or IMPOSSIBLE to find BIG and TALL camouflage hunting clothes, accessories, shooting gear and workwear
Exclusively Endorsed By King Size NFL Legend William "The Fridge" Perry
---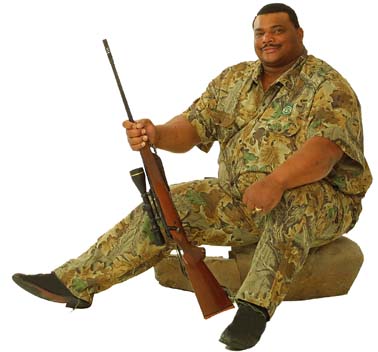 Our Goal is to ship great Big/Tall gear solutions with blazing speed and exceptional value! As a small outfit, we have two respectful requests:

WADERS IN STOCK!

BRANDS WE CARRY:




HOW FAST CAN I GET IT?? Our Ship Info Page has a UPS Map that shows days in transit right to your door! Check it out by by clicking HERE!


THANKS and Please Shoot us a pic for the Trophy Page when you whack something nice!!
We still fight the good fight every day to get your needs met. No Print Catalogs (we hated the cost) so we bought more stuff and kept the prices down instead. We are very, very thankful for you this and every season! CHEERS!

---

Hear Bud Light "Real Men of Genius" Salute Us!

Click Links At Left for Brand New Items and Savings at BigCamo.com:

---

Check Out Our BigCamo.com Sportsman Hero!

---

Our Latest Sportsman Hero is Ken with TWO Alberta Canada bears! AWESOME JOB!!

Got a trophy photo and wearing our gear? If so send it to us and you may be our next Sportsman of the Week, THANKS for ANY PHOTOS YOU HAVE!.

BigCamo is Your Home for Big and Tall Hunting, Fishing and Outdoor Clothing

Our Exclusive Features:

Largest Size Range (XL Tall to 8X Big) in World's Most Popular Hunting Clothing Patterns
Biggest Big and Tall Variety and Best Big and Tall Fit Available
Advantage, Mossy Oak and REALTREE Hunting Clothes Patterns
Satisfaction Guaranteed, and Most Products Made In USA
Order Processing Same/Next Day Mon-Fri, with UPS Shipping
All Items Fully Returnable -- No Questions Asked
Many, Many Unique Big/Tall Items
Endorsed By NFL Legend William "The Fridge" Perry

TO SHOP: Click on a Category at left, the Pictured Categories up top, or see our big and tall Specials Section to see what we have for you.

Questions or comments? -- for the quickest response, shoot us an email and THANKS for visiting! We're a small company, so don't be shy about emailing detailed questions if you can't get us live -- We'll get back with you!